The Keiser University Mock Trial Team at the Lakeland campus was founded by Dean Karen Steverson in 2012. By 2013, the Mock Trial Team was engaging in trial simulation in competition with teams from other universities from all over the southeast.
In 2014, the Mock Trial Team traveled to Tallahassee for its second competition where Melissa Girouard's outstanding performance earned her a Best Witness Award.
"It was a great experience and I would go to competition again in a heartbeat," says Melissa when asked about her experience on the Keiser Mock Trial Team. "You think you know what lawyers do because of television, but this really shows that being a lawyer is nothing like television. It really gives students an opportunity to put into practice what you learn in class." Although mock trial means extra work, including learning a part, preparing opening and closing statements, and learning how to establish the elements of your case, Melissa explains that it is worth it because "participating in mock trials gives you real world experience that is difficult to create in the classroom alone and opens your eyes to the pressures as well as the excitement of what it is like to practice law."
The Keiser Mock Trial Team is open to all students from any program. Dr. Terri Rawasia, the Keiser Mock Trial Team Advisor explains that "some members of the team have no plans to one day practice law; however, students involved in the medical programs, graphic arts, forensics or criminal justice, for example, all would benefit from the experience of mock trial."
"The mock trial experience doesn't just benefit those planning to become lawyers; it allows every student to develop critical thinking and public speaking skills in addition to knowledge of legal practices and procedures," said Dr. Rawasia, "And if you have any interest in acting, it can be great fun."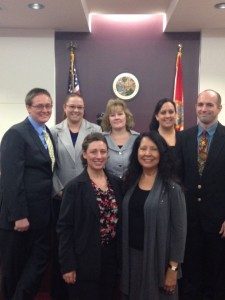 Students interested in joining the Keiser University Mock Trial Team on the Lakeland campus, are encouraged to attend a meeting or speak to the current members of the team.