Leslie Kristof, Campus President at the Port St. Lucie was recently appointed to the Economic Development Council's Board of Directors. When asked what this appointment means to her and her campus she shared, "I am thrilled and honored to be elected to represent Keiser University by serving on the Board of Directors for the Economic Development Council of St. Lucie County (EDC). The goal of the EDC is to develop high-wage, high-value jobs by fulfilling its mission. KUPSL has an exciting year ahead with our Beautiful New Campus in Tradition; it's important for us to have a "seat at the table" so that we have a voice in the decisions being made in our community that can contribute to our continued growth. And more importantly, further support our students with successful employment upon graduation in Port St. Lucie."
TCPalm wrote an article about the 2017 Leadership Team:
Economic Development Council installs new leadership
Candy Marlow, News contributor, Feb. 8, 2017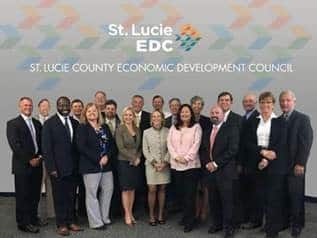 PORT ST. LUCIE — The Economic Development Council of St. Lucie County (EDC) announced its new 2017 leadership team, installing the Board of Directors and officers at the Investors' Luncheon at the Schreiber Center, Indian River State College, Port St. Lucie.
Fulfilling the mission of the EDC to attract new business, support expansion and retention of existing businesses, and advance community and economic development, the 2017 Executive Committee members serving on the Board of Directors are Edwin R. Massey, Indian River State College, who was reelected to his second term as EDC chairman; Wes McCurry, chair-elect, Tradition Land Co.; Amy Brunjes, vice chair, Florida Power & Light Co.; Christopher E. Fogal, treasurer, Proctor, Crook, Crowder & Fogal; Richard A. Houghten, secretary, Torrey Pines Institute for Molecular Studies; Bob Krieger, Lawnwood Regional Medical Center & Heart Institute; Rob Lord, Martin Health System; Glenn Ryals, GL Homes; Peter Tesch, Economic Development Council; and Tom Wilkinson, Seacoast Bank.
Board members Mike Adams, Adams Ranch; and Joel Zwemer, Dean, Mead, Minton & Zwemer, were re-elected, and joining the board in her first term is Leslie Kristof, of Keiser University.
Executive officers are elected to serve two one-year terms, while board members are elected to a term of three years.
"The St. Lucie County EDC made great progress over the past year, and I am confident that the organization will carry this momentum forward in 2017," Massey said. "We have an exceptional Board of Directors now in place, who not only share a unified vision for this community, but a commitment to diversifying the economy and improving our overall quality of life."
Board of Directors: Mike Adams, Adams Ranch; Terissa Aronson, St. Lucie County Chamber of Commerce; Brian Bauer, CareerSource Research Coast; Russ Blackburn, city of Port St. Lucie; Bob Brunjes, Treasure Coast Newspapers; Ian Cotner, AT&T Florida; Linda Cox, city of Fort Pierce; Megan Davis, Florida Atlantic University; Scott Davis, Tropicana; Wayne Gent, St. Lucie County School District, Richard E. Kolleda, FACHE Spherion; Leslie Kristof, Keiser University; Clay Lindstrom, Fort Pierce Utilities Authority; Tammy Roncaglione, CenterState Bank; Staci Storms, Realtors of St. Lucie County; Jimmy Terry,  PGA Golf Club; Howard Tipton, St. Lucie County; and Joel C. Zwemer, Dean Mead.