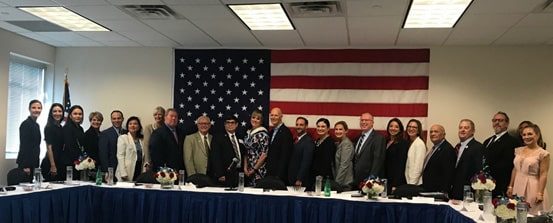 Senator Rick Scott Visits Keiser University's Miami Campus for Roundtable Discussion with Industry Leaders
FOR IMMEDIATE RELEASE
September 13, 2019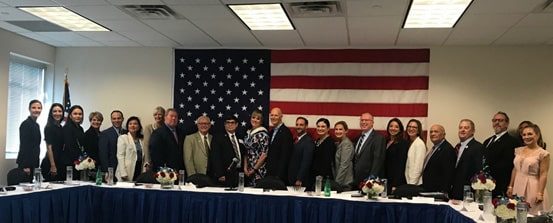 Miami, FL — Dr. Arthur Keiser, Chancellor and Belinda Keiser, Vice Chancellor hosted Senator Rick Scott during a roundtable filled with leaders of the business, workforce development and education communities at Keiser University's Miami campus on September 13.  Top representatives from Florida's major companies and colleges and universities attended such as FPL, UBS, Norwegian Cruise Lines, Miami Dade College, Pratt Whitney, Lockheed Martin, Barry University, Florida International University, St. Thomas University, the Florida Realtors Association and cybersecurity firms attended.  The discussion provided an opportunity to discuss college affordability, accessibility and alignment of employer demands with the college degrees necessary to prepare career-ready graduates in the 21st century workforce.
Senator Scott, while serving as Florida's governor, made a promise to Floridians to create 700,000 jobs in seven years.  When he took office as Governor over eight years ago, Florida was experiencing an 11.3% unemployment rate.  Upon completion of his second term, Florida's unemployment rate was 3.3% with nearly two million new public and private sector jobs created.
"As a University with a 42 year history of preparing talented students for the careers of today and tomorrow, it was an honor to host and join Senator Scott, economic professionals and educators sharing the goals of advancing Florida's workforce, economy and global competitiveness,"  said Belinda Keiser, Vice Chancellor of Keiser University.
Senator Scott's story is familiar to many of Keiser University students having come from humble beginnings, worked tirelessly at countless jobs, while remaining committed to earning an education, which allows one to achieve their professional goals. He served in the United States Navy, was an entrepreneur and founder of one our nation's largest health care companies. As a public servant, he has always remained a fighter and champion for families seeking the same opportunity he had to pursue the American dream.
While this roundtable took place in South Florida, we would love to have you join in the conversation! Please forward any ideas you may have for addressing Florida's workforce shortages, college accessibility or the economic development of our great State to Kelli Lane at [email protected] or Josh Sanchez at [email protected].