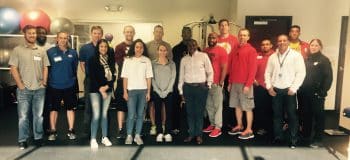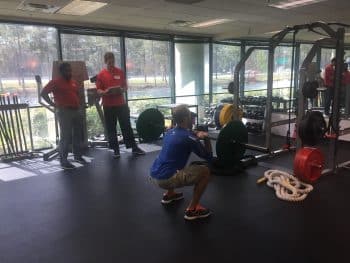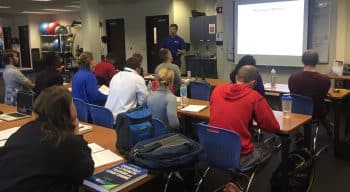 Jacksonville Sports Medicine Program Hosts Strength & Conditioning Workshop
The Jacksonville Sports Medicine & Fitness Technology program hosted a Certified Strength and Conditioning Specialist (CSCS) exam prep workshop. The workshop was developed and taught by the National Strength & Conditioning Association (NSCA). The CSCS certification is considered the gold standard in the field of strength and conditioning when working with athletes of all levels, from youth all the way up to professional athletes.
The workshop exceeded expectations with 17 attendees from all over the state of Florida, as well as the southeast region from North Carolina to Georgia. Keiser University Sports Medicine faculty, Danielle Graydon from the West Palm Beach campus, along with Dr. Stephane Diaz from the Orlando campus participated in the workshop as part of their professional development and continuing education.
Although all the participants already held at least a bachelor's degree in the field, hosting the workshop increased awareness of Keiser University's Sports Medicine & Fitness technology program, as well as Keiser University as a whole. The Jacksonville campus plans to host this event every year and hope it continues to grow and bring awareness of the university.
Bachelors in Sports Medicine & Fitness Technology Student Keeps On Truckin'
Recipients of a Bachelor of Science in Sports Medicine and Fitness Technology (SMFT) degree from Keiser University do not have an easy road to obtaining their degree. In addition to a full course load that takes more than 3 years to complete from start to finish, Bachelors of Science in Sports Medicine & Fitness Technology students must complete a high-quality capstone project before they can walk across the commencement stage. This coup de grâce comes in the form of a 30 page scholarly paper and a 60 minute presentation to a panel of KU academics who ultimately decide whether the student is prepared to receive a coveted bachelor's degree. It tests the fortitude of even the brightest of students, and Jacksonville's SMFT program has been fortunate to see its first 5 graduates in the last year rise to the occasion. Such is true of most recent graduate Larry Williams.
Larry took on a capstone topic that was unique and engaging. He decided to present on "The Prevention of Obesity and Chronic Diseases in On-The-Road Truck Drivers," highlighting the backbone of American industry and the various chronic health conditions they face as a result of the lifestyle required to perform the job. From the staggering statistics regarding the health of OTR truckers to the simple modifications Larry proposed to improve their quality of life including simple truck-stop workouts and general nutritional recommendations, Larry left no stone unturned in his pursuit of successfully completing his capstone. Most unique about Larry's capstone was the fact that Larry took his research out into the world over the past several months and sat with many truck drivers to get their own personal insights into the life of someone in this essential American industry. In addition, he even persuaded many of them to complete his simple workouts on-site to show them the importance of staying fit even when they are forced to stay on the road.
Larry's capstone and his above-and-beyond implementation of his knowledge as a graduate from Jacksonville's BSSMFT program were a bright spot for the Sports Medicine and Fitness Technology department. We are proud to congratulate Larry Williams and we wish him well in his pursuits as he looks to begin his graduate coursework in just a few months.