By Kristin Pulse
Hello, my name is Kristin Pulse, and I am a student in the Radiation Therapy program here at the Lakeland campus. I wanted to take the opportunity to bring some awareness to a cause very important to me.
Last month, as I was leaving school and was driving down Kathleen Road. To my right, near train tracks and a road with cars driving at 40 miles per hour, I saw a skinny, terrified dog lost and searching for somewhere to go. I instantly pulled over and grabbed a spare leash that I keep in my car for instances just like this. Slowly, I approached the dog with the leash and a bottle of water. I poured some water into my hand and immediately the dog began to lap water from my hand as if he had not had water in days. He was too weak to walk with me across the road to my car, so I picked him up and carried him to my car away from the danger of that busy road.  When I got him to my car, I noticed his back right paw was severely bleeding so I checked the gums of his mouth and they were almost white, meaning he had severe blood loss.  I got the dog, whom I started to call Keiser, to my house safely and gave him water and a bowl of dog food. He had not eaten in days; he went through three bowls of food before he curled up into a ball and went to sleep. While Keiser slept, I called the Polk County Animal Control office. I let the officer on duty know what was going on and I asked what the next course of action would be, if I should bring Keiser there or if I should have it picked up. Being unfamiliar with the area, I did not know how to get to the location of the animal shelter, so the officer so kindly called for the mobile unit to come pick up Keiser from my house.  About two hours later a Polk County Animal Control Officer showed up and assessed him. He also noticed how much blood Keiser had lost and quickly put him in his vehicle and left to get him some medical attention.
I called the Polk County Sheriff's Office of Animal Control the next morning. The officer on duty told me that Keiser had been micro-chipped, but the owner did not care to pick him up.  The owner said they had planned to give him up anyway; so they left that innocent dog on the side of the road to die.  I started to cry on my way to school.  How could someone be so neglectful and cruel?
On my way home from school that day I called the Polk County Animal Shelter again. I asked if there was anything I could do to help them, to help make a difference. I was then directed to speak with office manager, Crystal Barber.  She told me about their website where people can see the different ways to help this cause, especially during this time of year when the surrendering of animals is at an all-time high. This website also lets people search for adoptable animals as well.  Being the owner of a rescued pit bull myself, I find this to be very useful information.
I found this cause to be so important; I wondered how I could create awareness for it on my campus. So I contacted my student services department and spoke with the student services coordinator, Darrian Crumbley.  He suggested that I attended a SGA meeting the next week to bring this cause to the attention of my fellow students. Attended that SGA meeting was the best decision I could have made. My fellow students fully supported the cause and because of the help of student services, the Lakeland campus was able to create a dress down donation day for the Polk County Animal Shelter along with a donation drive for their needs. It was with the help of KU students, faculty, and student services that I was able to raise awareness and have a successful event. Thank you to everyone at the Lakeland campus for all your support.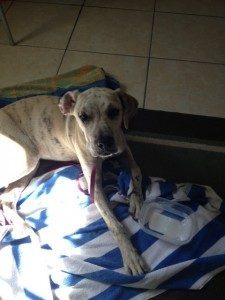 "Keiser" the Dog
STUDENTS: Please email your submissions/questions/comments to the ELSE Student Editor, Kayla Bianchi at: k.bianchi@student.keiseruniversity.edu