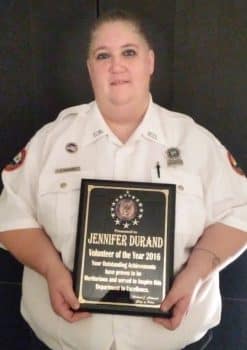 Do you feel Keiser has had an influence on your volunteer activities? Tell me about what initially motivated you to volunteer?                                                                                                                         
In August 2015, I decided to start going to the Leadership Distinction program every month at Keiser. I found out that I needed to do community service somewhere and I had no clue where or what I was going to do. Then in September and October of 2015 I began taking weekly classes for Daytona Beach Citizen's Police Academy to learn more about the police department. I found out that they had volunteer citizen police officers that helped in the community.  I then talked to Ms. Carr in student services to see if I could use volunteer hours from the police department and she I could do it.  I decided to fill out the application and return it to the police department, originally only to obtain the volunteer hours for the leadership program. As I began volunteering and getting out in to community it felt rewarding. Here I am 13 months later with 500 volunteer hours, a letter of commendation from the Chief of Police and Volunteer of the Year for 2016. So, yes, I do believe Keiser University had an influence on me volunteering, if it wasn't for me being in the Leadership Distinction program I would have never considered volunteering.
Is there anything from all of this you would like to share with your fellow KU students?
I work full-time overnights, go to school full-time, and have homework, assignments and projects to do and have a husband and kids.  I still find time in my busy schedule, even if it's on the weekends, to volunteer. I encourage others to volunteer no matter what you chose to do in your community. It not only helps others, but it's rewarding to you, knowing you have made a difference in your community.
What is your major at KU and why did you choose that field of study? What do you want to do with your degree after you graduate?                                                                                                                                              
I am majoring in Forensic Investigations. I decided 20 years ago, when Jon Benet Ramsey died and they couldn't figure out who killed her that I wanted to be a Crime Scene Investigator or work in a lab testing evidence to solve crimes.  After moving to Florida I saw a commercial on television for Keiser University and it showed the Forensic Investigation program so I then decided to see where the nearest Keiser University was and contacted them to check out the program. My goal when I graduate is to work in a crime lab and then become a Forensic Scientist.
What made you chose KU? How has KU helped you in your college journey?                                                                
I chose Keiser University because the school was local and it had the Forensic Investigations program that I wanted to get a degree in.  There are not many schools that offer this program.  I have been at Keiser for 2 years now and have to say I am so glad I chose this school.  Everyone has been so helpful on my journey and has helped me to achieve my Associate degree in Crime Scene Technology and made me want to keep going towards my goal of my Bachelor's degree.  I am thankful for my professors, the staff in student services, the use of the library and the writing studio.
Do you have a spouse, children, a job? What has your overall college experience been like with all your various activities?                                                                                                                                                  
I have been married to my wonderful husband Richard for 5 years and without his support to come back to school and get my college degree I probably wouldn't have. I have a 14 year old son Christopher and a stepson Billy that lives with us and I also have other stepchildren that don't live with us.  My overall experience with college has been very exciting and eventful over the past 2 years and I hope it is the same in the next 2 years. I feel that I have been very successful and have accomplished a lot since I have been in college.  I would have never considered volunteering if it wasn't for Keiser University.