Take a Peek at my Portfolio
My name is Lays Marrero Lerebours. I'm attending KU Lakeland where I study Graphic Arts and Design. I've been in this program for almost a year and I absolutely love it. I think it is incredible how I'm able to design an object and even animate it. Also I love how I can illustrate, design my own magazine cover or book. I decided to pursue this degree because I love anything that has to do with graphic arts and social media. I'm a very creative person; I can take something very simple and create a piece of art out of it. I decided to share with you today a small section of my portfolio. I hope that in sharing this with you, it will inspire you to embrace your creative side, and think outside of the box when meeting with potential employers so that you will leave a lasting impression.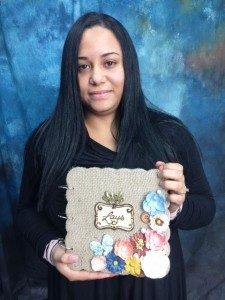 Portfolio
 When I created my portfolio I was so excited to explore all the amazing ideas I thought about doing. I decided to use burlap material to design and customize my own style. I think that the burlap makes the work look delicate and unique. I added some flowers to add more of an original look to it. I also used a wood-burner pen to write on my name on the cover. It's important to maintain a clean, professional portfolio while at the same time adding your own flare to it. This gives interviewers some perspective on your creativity while in a professional setting.
Bride Magazine Cover
 For this magazine cover I used Adobe Photoshop. I was inspired to design this cover because I was getting married around that time. When I created it, I used my perspective as a designer and as a bride. I used a shoe in the background, because it has an emotional meaning. When a special event like this is occurs, every woman would love to be in the bride's shoes.
Hand Drawn Horse 
I've always loved nature, especially animals. I think they are each unique and beautiful in their own ways. One night, I was star gazing when my imagination flew away. That's when I got the inspiration to draw this horse. I kept thinking how beautiful and majestic they are. When I think of horses, I think of them in their natural setting; wild, wind blowing through their hair, free, and full of affection for one another. That's what I was trying to convey when I drew this picture.
I hope you enjoyed a peek inside of my portfolio. This is a work in progress and I plan to add much more of my work as I further develop my skills.
 Written by: Lays Marrero Lerebours , Graphic Art and Design Student, KU Lakeland
STUDENTS: Please email your submissions/questions/comments to the ELSE Student Editor, Kayla Bianchi at: [email protected]