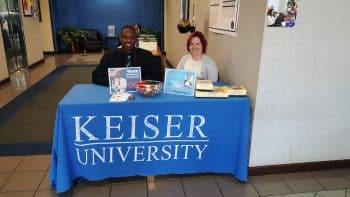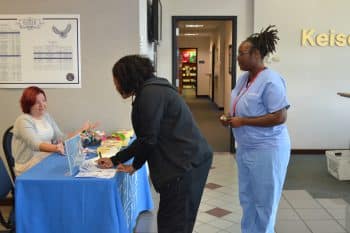 Last week the Jacksonville campus held SGA election for President with two incredibly qualified candidates, Bridgett Abshire & Cameron Peacock.  Bridgett won the campaign and here is some information about the new SGA President at the Jacksonville campus.
= = = = = = = = = = = = = = = = = = = = = = = = = = = = = =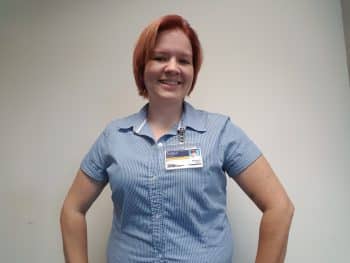 My name is Bridgett Abshire and I am a junior in the Biomedical Sciences Program at Keiser University, Jacksonville Campus. Initially, I was in another program, I changed to Biomedical Sciences after attending Dr. Zanzonico's Human Anatomy & Physiology course. I made this change once I was introduced into the career fields that Biomedical offers. I knew it was the perfect program choice for me, I feel this program is truly made for me.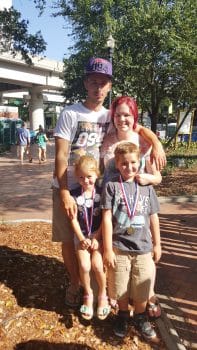 My family life consists of two beautiful children. I have an 8 year old son named Tristan, and he is the sweetest young man I've ever known. His smiles and laughs are the reason I keep pushing through school. My heart is a young lady who is turning 5 in 2 weeks, my daughter Genevieve, and her love and motivational speeches keep my head up high. I have a loving boyfriend of 2 ½ years, and his name is Roman Young. As a family we have been through some of the best times in my life. I am so thankful for my family. I am the eldest of 9 children, so family has always been my backbone. I have dedicated myself to them at home and they have sacrificed some of my time to allow the opportunity for me to build a family at school as well. My family has always played a huge role in who I am, they are a solid support system, and I too am here for them.
I chose Keiser University a very long time ago. I felt welcomed and knew I was not just another number. I was someone the campus knew. At Keiser University I did not just sign up and get swept under the rug, I was welcomed with open arms and smiles. Keiser University has really helped me become the strong individual I am today.
When I finally finish with my Bachelor's degree next spring my plans are to continue my education. I would like to intern at a few hospitals and get some training working in a lab and having more hands on experience. My overall goal is to obtain my Master's Degree and become a P.A (Physician Assistant). I want to better my community and help as much as possible.
Some of my favorite times and memories here at Keiser started when I became a federal work study. I have met so many awesome people and have made relationships that have helped me through my journey in life. Since starting at this job I have became the "graphics work study", in addition I have also picked up the responsibility and passion for photographing most of the campus' major events; open house, pinnings, etc. I would have to say having the guidance and wisdom from the Student Services Department, Ms. Barbara Vick & Raquel Ryan have helped develop so many new skills that have been hidden away.
I would say my most proud accomplishment here at Keiser University thus far would be coming out of my shell and becoming the new SGA President. I have always had the mentality and dedication to stay focused in school, but I felt I needed more. I really feel the need to be a part of an organization that has helped build so many leaders. I believe when I accepted the challenge of running for president it truly lit a fire inside of me. I can see so clearly the end goal that I will obtain before leaving Keiser. Everyone will have to wait and see what the new SGA team will bring.
One thing people do not know about me is I cannot dance to save my life. Haha