TALLAHASSEE – 
The Tallahassee Culinary Team brought back a Bronze Medal from the American Culinary Federation (ACF) State Championship held at the Florida Restaurant & Lodging Association Expo in Orlando Florida.
As a team they each received a bronze medal and went against eight other teams across the state of Florida.   The team had been practicing very diligently over the past month and during their summer break with Chef Instructor Dave Stroffolino as their head coach.  The students were judged on four different skill sets to involve knife skills, fish and chicken butchery and pastry skills. They also produced a four course menu adhering to classical French techniques.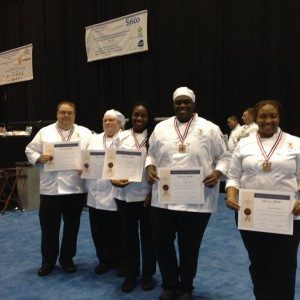 SARASOTA –
Recently, the Florida Restaurant and Lodging Association (FRLA) put on the biggest food show in Florida. At the food show, the American Culinary Federation (ACF) hosted a state championship culinary arts competition for professionals and students.  Five Sarasota Keiser Culinary Arts students worked very hard on preparing for the ACF student competition, and the team was awarded the BRONZE MEDAL! The student team was coached by Chef Olafia Wickham and Chef Vat Keovilay. The Sarasota campus is proud of the students on the student culinary arts competition team: Zuleyka Llinas, Kathleen Nichter, Ellen Macleish, Elliot Camacho and Daniel Jackson.