Tampa Holds a SVA Meeting on Campus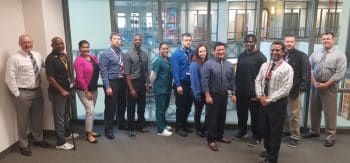 The Tampa campus hosted a meeting for their Student Veterans of America members in order to get organized, share ideas on how to move the club forward, and to serve the community. The meeting also featured an introduction from the director of financial aid, as well as the campus president, who had a resounding message of support for the club and the veterans. Victor Villeda, the faculty advisor for SVA, provided pizza for the students and held a raffle.
During the meeting, members shared many ideas as well as their existing connections to the community in an effort to introduce a plan for volunteering their time. Many of the ideas gathered were geared towards not just serving veterans but also the community in general. Some of the ideas discussed ranged from assistance with local little leagues to volunteering at the local VA.  The meeting ended in a sense of unity and direction that is sure to propel to club to future success.