In a nine day long toy drive ending Dec. 12, Keiser University's 15 Florida campuses collected countless toys valued at close to $30,000.00 making the holiday season a little more spirited for the children of military families served by Keiser's partner, Operation Homefront.  Each campus held a kick-off event with special guests including members of the United States military, representatives of Operation Homefront, community leaders, and Santa Claus.  "The continued outpouring of support for this admirable cause has been tremendous, with $15,000 worth of toys being collected in 2012 and $20,000 in 2013" shared Dr. Arthur Keiser, Chancellor.
"This is the third annual toy drive we have held in partnership with Operation Homefront and the continued outpouring of support for the military families they serve is heartwarming and inspiring," said Belinda Keiser, Vice Chancellor of Community Relations and Student Advancement at Keiser University. With over 20 percent of Keiser University's students being active duty service members, veterans, or military family members, holding toy drives all across the state for this incredibly important cause creates a sense of appreciation, unity and service among our students and staff.  On behalf of our 20,000 students and 3,500 employees, we extend our warmest holiday greetings and gratitude to Operation Homefront and all of the American military heroes and their families for their service, honor and sacrifice, she added.
Aside from the financial impact of this partnership, there is a much deeper and heartfelt connection that has been made with multiple KU students receiving homes from Operation Homefront.  Nicole Ruiz, an Accounting student at the West Palm Beach campus, learned about Operation Homefront during the first year KU held a toy drive at her campus, so she and her husband applied for a home for themselves and their two children.  Her husband is a disabled United States Air force veteran who was medically retired after 15 years of distinguished service.  They were fortunate enough to receive a home and are thankful for this wonderful opportunity as a result of the partnership.  "Having this house the last year has taken a great deal of stress off of us financially.  Having this house has allowed me to stay a full-time student and for my husband to fully retire honorable.  Having this house has changed so many things for our family and we will forever be grateful to Operation Homefront and Keiser University for making this all possible."
"We are delighted to partner with KU again this year to make the holidays a little brighter for our military families and wounded warriors," said Simone Hoover, Executive Director for Operation Homefront Florida. For these families, it's not just about the toys, but also knowing that they are not forgotten means so much, she added.
Here are some pictures of the kick-off events hosted at the campuses around the state, as well as some from when Operation Homefront came to pick up the donated toys.
DAYTONA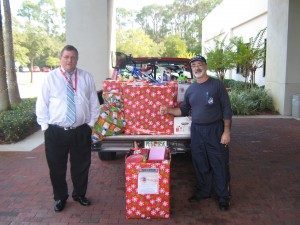 FT. LAUDERDALE / eCAMPUS / GRADUATE SCHOOL
FT. MYERS
JACKSONVILLE
LAKELAND
MIAMI
MELBOURNE
OFFICE OF THE CHANCELLOR
ORLANDO
PEMBROKE PINES
PORT ST. LUCIE / COLLEGE OF GOLF AND SPORT MANAGEMENT
SARASOTA
TALLAHASSEE
TAMPA
WEST PALM BEACH