What Types of Jobs and Career Potential Criminal Justice Students Can Obtain?

Vincent A Giordano, Ph.D
Professor of Criminal Justice at Keiser University's Tampa Campus 

"But I don't want to be a cop!"
This is often the statement students express when I discuss with them their potential career paths they may explore.
One of the greatest misunderstandings about obtaining a degree in criminal justice is the perception that the only careers open to a student are jobs in the field of policing and corrections.
Because of this, many students might avoid studying criminal justice.
However, as I am about to show, there are many potential careers that criminal justice students can obtain that do not involve becoming a police or corrections officer.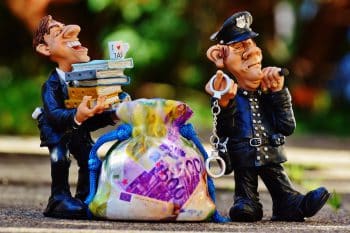 Some of these jobs include:
Private Investigator


Is a wide-open job field that allows for a variety of experiences. At its core, private investigators can be responsible for investigating crimes against a company, providing surveillance for companies or private citizens, and doing "due diligence" reviews of individuals who might be looking to get hired with a company or make a financial investment.


The average salary of a private investigator is around $45,500.00 per year.
Substance Abuse Counselor


Despite recent calls for sending more drug offenders to prison, substance abuse counseling is still increasingly becoming the more popular option of dealing with criminal drug offenders. In recent years, the United States has seen an uptick in opiate abuse, and the need to address this issue in a positive manner is increasing every day.
Because many of these offenders are involved in the criminal justice system there is a lot of crossover between social services and the criminal justice profession. So much so, that the state of Florida has developed a substance abuse certification (Certified Criminal Justice Addiction Professional, CCJAP) to help work with the ever increasing numbers of substance abusers in the criminal justice system.


The average salary substance abuse counselor is around $39,980.00 per year.
Victims Advocate


Since the 1980s there has been an ever increasing demand to increase the services for victims of crimes. Victims' Advocates work with multiple criminal justice agencies (police & states attorneys) to advocate for the rights of the victims of crimes, and to provide services for victims of domestic violence or sex crimes. Some duties include finding shelter, creating "exit plans" and linking the victim to mental health and supportive services.


The average salary victim's advocate is around $30,830.00 per year.
Probation Officer


Working in probation is significantly different than working within the actual prison system. For one, most of the monotony is not present when working as a probation officer. There are no bed checks or breaking up fights when you are a probation officer. Instead the probation officer is responsible for monitoring offenders out in the community. They make occasional home visits and oversee that the offender is meeting the requirements of their probation. The probation officer also makes recommendations directly to the court as to the offender's success or failures within the community. Based upon these recommendations the offender could be returned to prison.


The average salary of a probation officer is around $49,360.00 per year.
Fraud Investigator


In today's ever increasing digital age the need to investigate fraud that has been committed on the Internet is on the rise. According to CNBC*, Internet fraud could cost companies $16.4 billion dollars in 2017. For those who are less interested in Internet fraud however, there is still a great need for traditional fraud investigators. Auto, real estate, and injury fraud are common crimes that fraud investigators deal with.


The average salary of a fraud investigator is around $57,704 per year.


Criminal justice is a field that extends beyond traditional policing and corrections. The jobs examined above are just a snap shot of the potential careers that a student with a degree in criminal justice can obtain. Other jobs that are available include becoming a court clerk, a border patrol agent, fish and game warden, and a U.S. Marshal.


Each of these jobs offers students a unique opportunity to server their community in the criminal justice field without becoming a traditional law enforcement officer. That said, there are also many traditional police agencies that are looking to hire capable, educated individuals to work as police officers.


The options are wide open for anyone with an interest in a BA in criminal justice degree or AA in criminal justice degree.
*CNBC (n.d.) Businesses could lose $16.4 billion to online advertising fraud in 2017: Report Retrieved from: http://www.cnbc.com/2017/03/15/businesses-could-lose-164-billion-to-online-advert-fraud-in-2017.html

(Salaries listed below are estimated and came from: Criminal Justice Degree Schools)