FOR IMMEDIATE RELEASE
Keiser University Seahawks Take Home Learfield Directors' Cup
July 6, 2021
For Immediate Release
Media Contacts
Jeff LaLiberte / 954-821-3986 / [email protected]
Suzi McCreery / 561-301-9583 / [email protected]
FOR IMMEDIATE RELEASE
Keiser University Seahawks Take Home Learfield Directors' Cup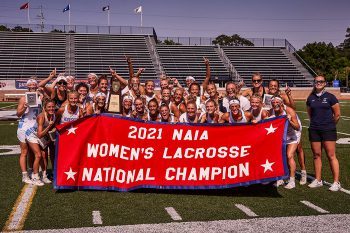 The Keiser University Seahawks took home the Learfield IMG College Directors' Cup. 
WEST PALM BEACH, Fla.–For the first time in school history, the Keiser University Seahawks captured the Learfield IMG College Directors' Cup earning 950 overall points to lead all schools in the National Intercollegiate Athletic Association (NAIA).
"With seven teams advancing to the NAIA final four, three coaches of the year and three national championships, our Keiser University Seahawk athletes and training staff continue to surpass prior records. We couldn't be prouder of our students, as their pursuit of excellence carries over into the classroom and will serve as a valuable foundation as they pursue their professional goals," said Arthur Keiser, Ph.D., Chancellor of Keiser University.
The Keiser University Seahawks compiled 950 points, with Indiana Tech (881.50), Indiana Wesleyan (856.50), Oklahoma City (723.25), and Marian (717.25) rounding out the top five.
Director of Athletics, Kris Swogger said, "We have many talented and driven people in our department, each striving to be the best at what they do, and this award is a testament to the hard work, sacrifice, and commitment they put in day after day. Thanks to the outstanding efforts of our student-athletes, coaches, and staff, Keiser University has reaffirmed its position among the most successful collegiate athletics programs in the country.  This success was not achieved overnight, and it also was not done alone.  Our fans, parents, faculty, and alumni all played a role in this tremendous achievement.  We can't thank them enough for their support in what was, without a doubt, the most challenging year we have ever faced.  We look forward to the challenges ahead and for the opportunities that those challenges will provide us to get better.  Go Seahawks!"
To view a full video recap of the year please click here.
Keiser hauled in three championships in May, starting with women's soccer winning their second straight national title, 2-1 over No. 1 William Carey in overtime. The season was unique as the Seahawks played in the fall and spring, ending the year with a 19-2-2 overall record.
Overall Keiser University Seahawk Success Includes:
3 NAIA National Championships
3 NAIA National Coach of the Year
7 teams advanced to the NAIA Final Four
6 Regular Season Championships
7 Tournament Championships
8 Conference Coach of the Years
12 NAIA National Tournament Appearances
13 teams ranked in the NAIA Top 25 at the end of the year
91 NAIA All-Americans
115 Academic All-Conference honorees
120 All-Conference individual awards and 7 relay teams
00 Overall department GPA
214 Athletes with a 4.00 GPA
About Keiser University
Keiser University is a private, not-for-profit university, serving nearly 20,000 students and employing 2,900 faculty and staff members. Co-founded in 1977 by Chancellor Arthur Keiser, Ph.D., and Evelyn Keiser, the university currently offers more than 100 degrees at 21 Florida campuses, as well as online and at two international sites. Keiser University is accredited by the Southern Association of Colleges and Schools Commission on Colleges as a level VI institution to award certificates and degrees at the associate, baccalaureate, masters, specialist, and doctoral levels. For additional information regarding Keiser University, visit http://www.keiseruniversity.edu.