Belinda Keiser, Vice Chancellor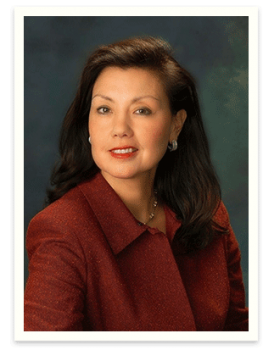 Belinda Keiser has devoted her career to advancing Florida's economic and workforce development, global competitiveness, education, and healthcare communities. In addition to serving on numerous governmental boards, Keiser is the Vice Chancellor of Community Relations and Student Advancement at Keiser University (KU), overseeing Media and Public Relations, Government Relations, and Student & Career Services, serving for more than 40 years an advocate for social mobility, accessibility to higher education, and talent development.
During her tenure, Keiser University has grown into Florida's largest, not-for-profit university, serving 20,000 students pursuing 100 doctoral through associate degrees in many of Florida's targeted industries. Approximately 20 percent of KU's student body are active-duty service members, veterans, or military family members. With 21 Florida campuses and 3,800 team members, KU's annual economic impact is $3 billion and results in more than 30,000 direct and indirect jobs. For nearly 50 years, KU has continued to serve Florida students, families, and employers seeking career-ready graduates. Keiser University is a state and national leader in the production of nursing graduates passing the NCLEX on first attempt, and actively facilitates clinical partnerships in many of Florida's premier hospitals.
Keiser is a member of the Florida Children and Youth Cabinet, appointed by Florida Attorney General Ashley Moody in 2020. The vision of the Cabinet, under the leadership of Florida First Lady Casey DeSantis, is for all children in Florida to grow up safe, healthy, educated and prepared to meet their full potential. In March 2022, Florida Chief Financial Officer (CFO) Jimmy Patronis appointed Belinda Keiser to the Florida Commission on the Status of Women (FCSW) where she serves as Chair of the Public Policy Committee. The FCSW was created over three decades ago by the Florida Legislature with the mission of raising awareness and celebrating the contributions and successes of women and girls.
Keiser is a gubernatorial appointee to the Board of Directors for both Enterprise Florida, the State's primary economic development board, and Space Florida the aerospace economic development agency for the State of Florida.
In 2019, Keiser joined the Foundation for Florida's Future as a member of the Board of Trustees at the request of former Governor Jeb Bush, citing her commitment to the foundation's goals of providing access to quality education preparing students for lifelong success.
In 2017, Keiser was appointed to Florida's Constitution Revision Commission (2017-18) by former Governor Rick Scott. Florida is the only state in the Union with a Constitution Revision Commission. The 37-member commission meets only once every 20 years to make recommendations for amendments to Florida's Constitution for consideration by Florida voters. As a member of the CRC, Keiser served as a member of the Executive, Legislative, and Education Committees.
In 2016, Belinda Keiser was entered into the Congressional Record in Recognition of Women's History Month by Congressman Mario Diaz-Balart and Speaker Paul Ryan for her work in the areas of education, public service, and philanthropy.
Belinda Keiser is a former member of the 17th Circuit Judicial Nominating Commission where she served consecutive eight-year terms, an Ex-Officio member of the Florida Council of 100, former member of the Board of Florida's Chamber of Commerce and the Florida Government Efficiency Task Force, and former member of the Board of Directors of Workforce Florida, Inc., now CareerSource Florida.
In 2022, Keiser was the inaugural recipient of the Tony Karrat Excellence in Community Service Award from Legal Aid Services of Broward County (LAS) and Coast to Coast Legal Aid of South Florida (CCLA). She previously served as the Coordinator of Broward Lawyers Care for the Broward County BAR and LAS from 1988-1992 where she was responsible for implementing a program for the delivery of pro bono legal services to disadvantaged residents of Broward County.
Belinda Keiser also established the Keiser Mills Foundation, which provides unique scholarship and learning opportunities to students seeking international, entrepreneurial, leadership and civic engagement experiences as part of their college education in Florida. Keiser University has awarded over $72 million in scholarships to needs-based and academically deserving students over the last two years. She leads by example throughout the University with her charitable and philanthropic efforts for non-profit organizations close to heart, such as the Cystic Fibrosis Foundation, American Heart Association, American Diabetes Association, and the American Cancer Society.
She received a bachelor's degree from Florida State University, a certificate in paralegal studies from Keiser University and a Master of Business Administration from Nova Southeastern University.
Belinda Keiser has been married to her husband, Dr. Arthur Keiser, for more than 35 years. She is the proud mother of Robert Keiser, a graduate of George Washington University, and Andrea Keiser, her daughter-in-law, a South Florida land use attorney, and the proud grandmother of Isabelina, Rosalina, and Seraphina.
Belinda Keiser in the Media
| | | |
| --- | --- | --- |
| Orlando Mom Collective | Florida Commission on the Status of Women and Keiser University join forces to discuss issues that matter to Central Florida women | June 29, 2023 |
| East Volusia News | Keiser University Nursing Advisory Council announces recommendations to address Florida's nursing shortage | March 26, 2023 |
| Florida Daily | Jimmy Patronis Inducts the Florida Commission on the Status of Women Officers and New Members | March 26, 2023 |
| Florida Politics | Jimmy Patronis to induct 2023 Officers of the Florida Commission on the Status | March 22, 2023 |
| Florida Politics | Florida's independent and state colleges are pitching solutions to the looming nursing shortage | March 11, 2023 |
| The Capitolist | Florida healthcare industry experts urge legislative action to address nurse staffing crisis | March 10, 2023 |
| Florida Politics | Keiser University addresses the nursing crisis in Florida | March 10, 2023 |
| WTXL | Nursing Advisory Council makes recommendations to help gain more nurses | March 9, 2023 |
| Wellington Mom | Keiser University is building a new Aquatic Center. Here's why parents need to pay attention | November 4, 2022 |
| ESPN 106.3 | ESPN West Palm Tonight: Keiser University Discusses New Aquatic Center | October 27, 2023 |
| Miami Today | Keiser nursing council seeks legislative action | October 25, 2023 |
| Florida Today | Keiser to host Olympians at aquatic center fundraiser | October 20, 2023 |
| Miami Times | COVID-19 on the rise again | July 20, 2022 |
| South Florida Hospital News and Healthcare Reports | Keiser University forms nursing advisory council with key healthcare stakeholders to address Florida's nursing shortage | July 20, 2022 |
| Miami Today | New council to help hospitals, universities deal with nursing shortage | July 19, 2022 |
| El Nuevo Herald | Escasez de enfermeros en Florida puede empeorar. Expertos y autoridades esperan encontrar una solució | July 14, 2022 |
| Miami Diaro | Médicos y educadores se reúnen para hacer frente a escasez de enfermeras | July 13, 2022 |
| Bradenton Herald | Florida's nursing shortage expected to worsen. Here's how experts, officials hope to fix it | July 13, 2022 |
| Miami Herald | Florida's nursing shortage expected to worsen. Here's how experts, officials hope to fix it | July 13, 2022 |
| WFOR CBS Miami | South Florida medical field leaders and educators form advisory council to deal with anticipated nursing shortage | July 13, 2022 |
| WPLG ABC Miami | New advisory council forms to tackle South Florida nursing shortage | July 13, 2022 |
| Florida Daily | Jimmy Patronis Names Belinda Keiser to the Florida Commission on the Status of Women | March 25, 2022 |
| Florida Politics | Key stakeholders unite to discuss Florida's nursing shortage | January 26, 2022 |
| News-Press | Guest opinion: Florida's economic success depends on support of private college students | January 24, 2022 |
| Naples Daily News | Guest opinion: Florida's economic success depends on support of private college students | January 24, 2022 |
| Yahoo! News | Support for Florida's private college students contributes to state's economic success | Opinion | January 21, 2022 |
| Tallahassee Democrat | Support for Florida's private college students contributes to state's economic success | Opinion | January 21, 2022 |
| Florida Weekly | Every Child a Swimmer, Keiser University, West Palm Beach | August 19, 2021 |
| SwimSwam | NAIA's Keiser University Announces $8 Million Plan to Build New Aquatic Center | August 13, 2021 |
| Swimming World Magazine | NAIA Power Keiser University to Invest in $8 Million Aquatics Center | August 10, 2021 |
| Palm Beach Post | Keiser University plans $8 million aquatics center and Olympic-sized pool | August 10, 2021 |
| Palm Beach Post | Point of View: Florida must continue helping Hispanic students | April 23, 2021 |
| WPEC | Keiser University notes renewed interest in healthcare jobs due to pandemic | February 9, 2021 |
| South Florida Business Journal | Keiser University lays out vision for main campus | November 21, 2019 |
| TC Palm | New Keiser University campus offers career-focused programs to adult learners | June 19, 2017 |