Dietetics and Nutritious students from Keiser University's Lakeland campus came together and crafted healthy, yet delicious Halloween plates. They cooked healthy Halloween-inspired recipes on campus. We have the top three recipes: pumpkin pancakes, jack-o-dillas and pumpkin oat cookies. Try these spooky, tasty treats at home and let us know how you did. Post a photo of your creations and tag us using #Keiserween2020.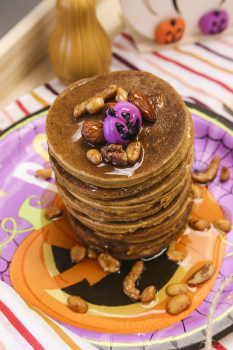 Ingredients:
1 1/2 cup whole wheat flour (may substitute with oat flour)
1/2 cup pumpkin puree
1 cup almond milk
cinnamon (as much as you like)
2 eggs
1 tsp vanilla
1/4 cup monk fruit (or any other sweetener of choice)
½ tbsp ghee (or butter) per pancake
*yields about 8 to 10 pancakes
Directions:
Step 1
Mix all the ingredients well, until combined, except for ghee.
Step 2
Heat a non-stick skillet with ghee on the stovetop on medium heat.
Step 3
Once pan is hot, pour batter, using about ¼ cup of for each pancake onto pan.
Step 4
Use a spatula to brown on both sides for about 2-3 minutes each or until
edges are done.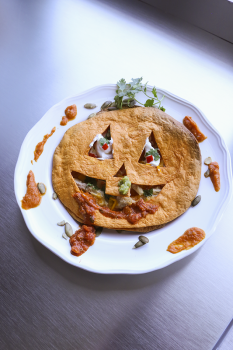 Ingredients:
avocado oil cooking spray (or any other oil)
2 cups shredded rotisserie chicken
8 medium flour tortillas
¾ cup shredded cheddar cheese
¾ cup shredded Monterey Jack cheese
1 tbsp extra virgin olive oil
½ cup sour cream
½ cup guacamole
½ cup pepita salsa
1 bunch cilantro
1 three-pack of tricolored orange, yellow and red bell peppers
*yields about 4 Jack-O-Dillas
Directions:
Step 1
Preheat oven to 425 degrees and coat a large baking sheet with cooking spray.
Step 2
Dice bell peppers and set aside.
Step 3
Use a paring knife to cut out a Jack-O-Lantern pattern on 4 tortillas and set aside.
Step 4
Divide evenly and sprinkle chicken, cheeses and bell peppers onto four remaining tortillas. Top with the Jack-O-Lantern tortillas.
Step 5
Place quesadillas on baking sheet and brush with oil.
Step 6
Bake for about 5 to 7 minutes or until cheese melted and tortillas are golden.
Step 7
Top with sour cream, guacamole and salsa. Garnish with cilantro.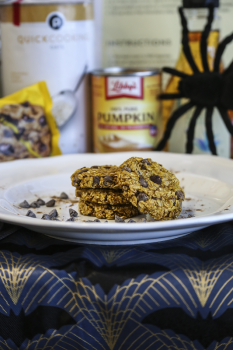 Ingredients:
2 ½ cups rolled or quick oats
1 cup pure pumpkin puree
2-3 tbsp pure maple syrup, agave or coconut sugar
1 tsp pumpkin pie spice or cinnamon (optional)
½ cup dairy free chocolate chips (optional)
Directions:
Step 1
Preheat oven to 350 degrees.
Step 2
Prepare a baking pan with parchment paper or coat pan with cooking spray instead of using parchment paper.
Step 3
Mix all ingredients in a bowl to form a thick dough.
Step 4
Use your hands to ball up 12 cookies and place them on the baking pan.
Step 5
Bake for 10 minutes. Allow cookies to cool and enjoy.