Clara Cunha, a Keiser University Port St. Lucie campus student credits her mother for inspiring her to move forward with her educational goals despite challenges along the way.
The future Bachelor of Science in Nursing program graduate has learned that hard work and perseverance can pay-off, and credits her mother for being an exemplary role model. "At an early age, she decided to leave her home country to provide me with an opportunity I would not have elsewhere. That level of sacrifice and courage motivated me to search within myself as I aspired to help others while working to become an exceptional nurse," said Cunha, originally from Brazil.
Keiser University educators have also provided a strong foundation for Cunha, who looks forward to applying her credentials towards restoration and healing.
"Every professor and clinical instructor I have had at Keiser has offered unique nursing perspectives that have helped nurture my love for the profession. Ultimately, their opinions and lessons have shaped me into the student I am and the nurse I will become." smiled the St. Lucie West Centennial High School graduate.
As she prepares to make her debut as a healthcare professional, university leaders share their well wishes. "Clara is a caring and compassionate student," said Bachelor of Science in Nursing Program Director Maureen Harry. "She exemplifies the true meaning of being a nurse, and I am confident she will successfully complete the National Council Licensure Exam and join the profession with pride."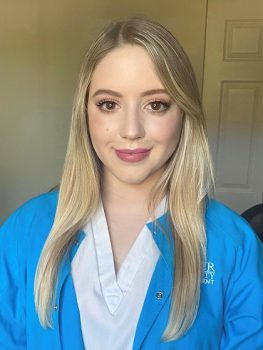 Keiser University Bachelor of Science in Nursing program graduates will be prepared to provide compassionate, patient-centered, culturally competent nursing care to individuals, families, groups, communities, and populations in a variety of settings, using evidence-based knowledge and skills related to wellness, health promotion, illness, disease management, and end-of-life care to improve healthcare outcomes. They will practice in partnership with patients as members and leaders of interprofessional healthcare teams, utilizing the most current healthcare technologies.