The Sports Medicine and Exercise Science programs at Keiser University's Orlando campus recently hosted an international guest speaker on civil responsibility and its implications on the students' respective fields.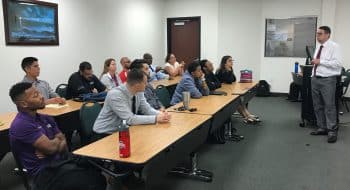 The speaker, Steeve Beloni Correa Dielle Dias, an attorney from the Offices Dielle Dias, Advogados, and Associates in Brazil spoke on the different facets of civil responsibility such as measures of fault. One example was the subject of omission. He also explained that a person could be held responsible for allowing something dangerous, damaging, or traumatic to occur that could be prevented in by his or her scope of practice.
Professor Dielle Dias also discussed matters of burden of proof and emotional trauma, and how they play a role in the Allied Health field. His speech provided valuable advice to current and future professionals that can be applied in any occupation. Keiser faculty and students were grateful for his time and wisdom. They hope to benefit from his advice in the future.
Professor Dielle Dias is the Chief Prosecutor of the Regional Council of Physical Education and Professor of Maritime Law at the Post Graduation in Foreign Trade of the Pontifical Catholic University of Paraná. He is pursuing a Doctorate in Economic Law and Development and holds a Master's degree in Law.