One of Keiser University's clinical and academic faculty members is making a great impression upon students on the other side of the globe. Dr. Lenie H. Kline, PT, DPT, who teaches at our Sarasota campus, has been returning to her homeland, the Philippines, for more than 25 years and taking what academic knowledge she has learned at Keiser University, to the students of Del Salle University.
Dr. Kline is a graduate and once a full-time physical therapy faculty member for Del Salle University in Manila, before immigrating to the United States in 1993. Teaching has been her passion. "When Keiser University gave me the opportunity to go back to teaching, I was so delighted," she says. Each time that she visits the Philippines, she lectures, whether it be a small inspirational talk, or a full-day workshop for the school's physical therapy students. Del Salle University (DLSU) ranks among the top 2 universities in the Philippines in physical therapy education, according to Localpulse.net. The University of Santo Tomas ranks 1st.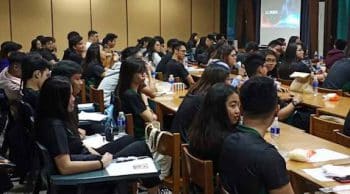 On Jan 4th, Dr. Kline returned to Del Salle University to give a full day workshop to 130 graduating Bachelor of Science in Physiotherapy (BSPT) students. "The workshop was an overwhelming success," she said, and credited Dr. Stabile and her mentor, Dr. Credit. "I used the flipped class portfolio based critical thinking methods and the many tools I learned from the Keiser Education Seminar (KES) and convocations. "I can tell you they work. We had very engaged students," she adds.
Many of the students expressed to Dr. Kline that they have plans for their futures and know the steps that they need to take after graduating. Several of the students are from the U.S. "I told them, preparation for the National Physical Therapy Exam (NPTE) is very important." DLSU faculty members are now adopting the techniques that they learned from Dr. Kline. The term given to her style of teaching is, "parallel learning." The school has short lectures and immediately performs lab and workshops, and due to this, critical thinking is enhanced.
Dr. Kline received a standing ovation as she was recognized by school administrators and her students. "That was such a bonus," she says excitedly. "I was able to inspire these young future clinicians and it was an awesome acknowledgment," she continues. Afterward, Dr. Kline, along with the faculty and administrators, discussed the school's plan to start a Masters of Physical Therapy (MPT) and a Doctor of Physical Therapy (DPT) program. Good things are being planned for both the students and the school's futures and Keiser University wishes them great success.