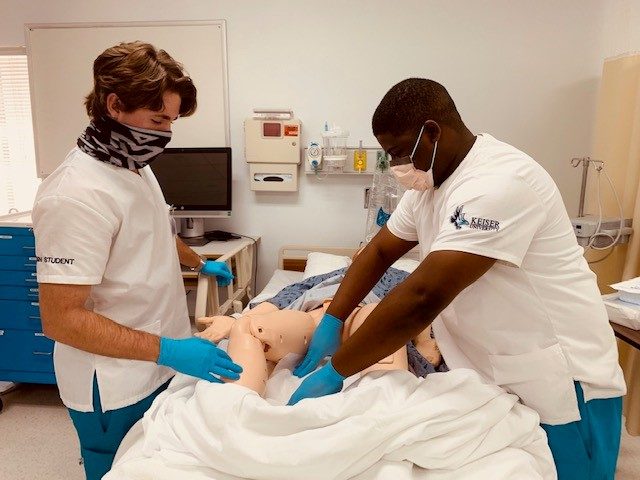 New nursing degree at Keiser University Tallahassee addresses Florida nursing shortage
March 6, 2021
For Immediate Release
Media Contacts
Jeff LaLiberte / 954-821-3986 / [email protected]
New nursing degree at Keiser University Tallahassee addresses Florida nursing shortage
TALLAHASSEE, Fla.—Keiser University Tallahassee has recently launched a Bachelor of Science in Nursing (BSN) program to help address Florida's nursing shortage. The new academic program was launched in January 2021 and was fully enrolled in its first semester.
According to the American Association of Colleges of Nursing (AACN), the U.S. is projected to experience a shortage of registered nurses in the coming years. The now-defunct Florida Center for Nursing has said more than 40 percent of Florida's nurses are approaching retirement age by 2030, leaving the state to face a shortage of RNs that could severely impact the state's healthcare system.
"Florida's population continues to grow and the demand for nursing personnel will increase as the state's baby boomers reach retirement age," said Arthur Keiser, Chancellor and CEO of Keiser University. "Keiser's Bachelor of Science in Nursing degree is preparing the next generation of Florida's RNs by providing a comprehensive education program that will allow them to work at hospitals and clinics throughout the state."
The new BSN program at Keiser University Tallahassee was launched specifically to address the urgent demand for nurses in Tallahassee and surrounding areas. In Leon County, Career Source Florida predicts a combined 3.3 percent growth in licensed practical nurses (LPNs) and Registered Nurses (RNs) in 2020-2021.
The new BSN program is offered in an accelerated and FastTrack curriculum which allows students to complete the program of study in four semesters after general education credits and prerequisites are evaluated and completed. The degree will prepare students to provide compassionate, patient-centered nursing care to individuals, families, and communities using evidence-based knowledge and skills.
"At this critical point, we will continue working with our hospital and clinic partners throughout the state to ensure we help them keep up with the demand for qualified nurses," said Keiser. "Nursing students and graduates from Keiser University will remain on the frontline providing lifesaving assistance and critical support to health care teams."
Keiser University is the number one producer of nurses in Florida. At its campuses across the state, KU has seen a rise in applications in its BSN, Master of Science in Nursing (MSN), and Associate of Science in Nursing (ASN) programs in the past year.
About Keiser University
Keiser University is a private, not-for-profit university, serving nearly 20,000 students and employing 3,800 faculty and staff members. Co-founded in 1977 by Chancellor Arthur Keiser, Ph.D., the university currently offers more than 100 degrees at 21 Florida campuses, as well as online and at two international sites.
Keiser University is accredited by the Southern Association of Colleges and Schools Commission on Colleges as a level VI institution to award certificates and degrees at the associate, baccalaureate, masters, specialist, and doctoral levels. For additional information regarding Keiser University, visit www.keiseruniversity.edu.