Library
Library Director's Welcome
Welcome!
The library staff welcomes students, faculty, staff and visitors to use our facilities and services. We have online periodical databases accessible through the library webpage, and therefore available on campus through IP recognition. Some databases are even available off campus with a password. We have computers available, Wi-Fi signal for laptops, and many other valuable resources.
We are open six days during the academic year, Sunday to Friday, and from Monday to Friday during the summer sessions. All students and faculty have full privileges for borrowing library materials, using electronic databases and requesting interlibrary loan materials.
We are happy to serve our patrons, and look forward to assisting you with your research needs and requests for leisure reading and viewing. At the beginning of the fall semester in 2011 the new library was opened to the campus community with improved services including individual and group study rooms, audiovisual rooms, a 24 hour study room close to the library entrance, and increased study space for students and for all of our collections allowing for growth during years to come.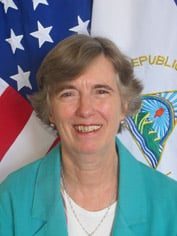 Mrs. Elizabeth Garcia
Ask a Question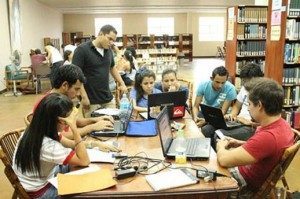 One of the library staff will answer you within 24 hours, not including weekends. We will be happy to assist you to reach your educational goals.
Available Services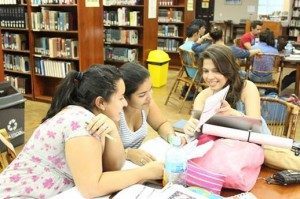 Book loans:
4 weeks loan period, subject to renewal
Late fee, $0.08 per day
Local and international newspapers:
Reserve materials for use in the library:
In – library use only, 2 hours maximum.
Late Fee: $ 0.50 per hour plus $1.25 overnight
Photocopy services:
$0.02 per page letter size
Internet services:
Computer databases:
Printing from library computers:
Text only: $0.08 per page.
Double sided printing: $ 0.12 per page.
Graphics & Images: $0.16 per page.
Scanning:
DVD & Video loans:
Overnight, to be returned next day by 2:00 p.m. except Friday, when materials must be returned by 2:00 p.m. Monday.
Late fee: $0.08 per hour plus $1.25 per night.
Faculty and Staff:
The faculty and staff of the university have access to all library services.
Visitors:
Visitors to the campus have access to the library, and can use materials in the library. Photocopy services are available. Students, faculty and staff have priority for computer services, and therefore, these are usually not available for visitors, unless special arrangements have been made with the library director. Residents of the area can request borrowing privileges with "special patron" status.
General Information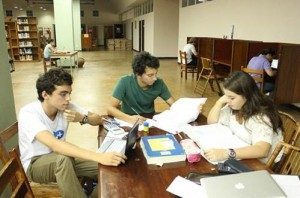 The Henry H. Howard & Gertrude L. Bagley Library is open for student and faculty use six days a week during the academic year, and is also open on a reduced schedule during the summer sessions. All students and faculty have full privileges for borrowing library materials, using computer databases, and requesting interlibrary loan materials.
The collections consist of books, hardcopy periodicals, full-text periodicals in online databases, Internet, videos and other educational materials. Library users can print from computers and there are photocopy services in the library building. The building has Wi-Fi for the use of laptops and other mobile devices. The new building offers many new services including group and individual study rooms, a 24-hour study room, a quiet study room, a video viewing room, a conference room and expanded space for the growing collections.
The library constitutes an important part of the academic life of the campus. Most of the library collection is in English, since that is the language of instruction. However the Latin American Collection consists of English and Spanish language materials on Latin American subjects. There is also an extensive collection of bound Nicaraguan newspapers in Spanish, most of which is unavailable through online services. Due to the importance of some of these collections, they are also available for use by visiting scholars.
Selected Links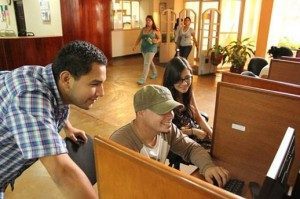 Roman Catholic Websites
General Reference Websites
U.S. Newspapers
Central American Newspapers
Guatemala
Belize
El Salvador
Honduras
Nicaragua
Costa Rica
Nicaraguan Academic & Research Websites
Nicaraguan Bilingual Elementary & High Schools
Nicaraguan Government Offices
Search our Library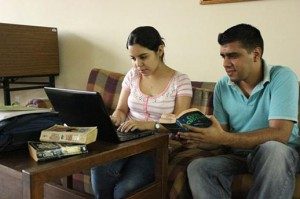 Library Hours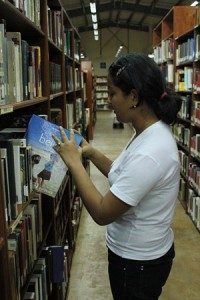 The Henry H. Howard and Gertrude L. Bagley Library is open all year for the use of the academic community.
| | | |
| --- | --- | --- |
| Days | Fall & Spring Semester | Summer ( Mid-May to Mid-August ) |
| Monday – Thursday | 07:45 AM – 11:00 PM | 08:00 AM – 05:00 PM |
| Friday | 07:45 AM – 05:00 PM | 08:00 AM – 05:00 PM |
| Saturday | CLOSED | CLOSED |
| Sunday | 03:00 PM – 9:00 PM | CLOSED |