Dean Dennis, a Doctor of Chiropractic student at Keiser University's West Palm Beach campus is celebrating Independence Day along with his five a cappella band members by releasing their version of the national anthem. To listen, please click here.
"In spite of everything our country is experiencing, the United States of America is still the greatest nation in the world. There is no other place on earth like this.  America remains one nation, under God, indivisible with liberty and justice for all. Our band 7th Element band began as a vehicle to simply share hope, love, and positive messages in what is sometimes a dark world. We believe it is our mission to share in this unique way and we absolutely love doing it. We have had the honor of touring and performing all over the world, and we all grew up in the church. Churches can be incubators of some of the most amazing talents!  So, coming from that environment, we have all been avid vocalists our entire lives," said the father of three.
Dennis shared that musical performance is like the chiropractic field for him, as he must assess people and discern their needs and the messages they need to hear. "We must determine a setlist of songs that will resonate as well as the messaging needed between the songs. This assessment is vital to the success of every performance.  I can imagine that it will be similar when we open our office and assess patients.  Each patient will have unique needs that will require a tailored approach," said Dennis who plans to open chiropractic and nurse practitioner-led health clinics along with his wife in order to improve public access to multi-disciplined healthcare. "We are especially passionate about one day being able to help our patients with their management of lifestyle-related diseases and also non-pharmaceutical management of chronic pain –  especially cases where invasive surgery is inappropriate," added Dennis who graduated from John I. Leonard high school and Oakwood University.
Having existed for over 20-years, the 7th Element band includes four brothers and two of their close friends (Marc Dwyer, Darren Greene, Garth Greene, Curt Greene, Kevin Greene, and Dean Dennis), they all live in Florida except for Curt who lives in Tennessee.
The Doctor of Chiropractic program at Keiser University is a rigorous professional program consisting of ten semesters of study which are completed over 40 months.  It combines traditional lectures with small group learning, weekly conferences and seminars, laboratory and experiential sessions, and clinical training opportunities at a number of sites.  All coursework includes case-based relevancy for chiropractic practice as a portal-of-entry profession dedicated to excellence in spine care.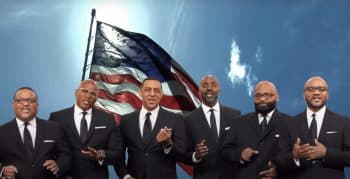 *Please Note: Band members have paid for complete rights to the music and all band members authorize the release of this video. Dean Dennis is the bass singer (4th from the left).