The World Association of Chefs Societies (WACS) has accepted Keiser University's Center for Culinary Arts for inclusion in their Recognition of Quality Culinary Education Program.
A WACS Education Review Panel reviewed the evidence provided by the KU Center for Culinary Arts and determined the Melbourne, Sarasota, and Tallahassee campuses meet and in some cases exceed WACS Standards of Quality Culinary Education.
"For Keiser University to have achieved this distinction clearly demonstrates the quality of the culinary arts program we are offering to our students", stated Joseph Hardiman, Associate Vice Chancellor of Culinary Arts.
WACS representatives made a plaque presentation at the Melbourne Center for Culinary Arts in front of community leaders and other distinguished guests.  Similar events are being scheduled for the future at Sarasota and Tallahassee campuses.
Chef James McGuinness, Dean of Culinary Arts at Keiser University in Melbourne, described the benefit for his students beyond the international recognition that the campus has received with WACS, "Keiser University's inclusion in this program will provide our students with a broader range of topics of concern to aspiring Culinarian's and enhance their global perspective on food."
Keiser University began offering the culinary arts program at the Tallahassee campus in 1998 and after 2003 was approved to begin the program at the Melbourne campus and Sarasota followed after 2005.  Currently enrollment between the three campuses is close to 200.  Keiser University Center for Culinary Arts is accredited by the American Culinary Federation. Its Associate of Science degree in Culinary Arts presents a comprehensive curriculum that includes laboratory sessions, academic preparation and hands-on experience. Students acquire professional knowledge of food, its preparation and handling and cooking from basic to advanced. The curriculum includes an externship to prepare students for entry-level positions in the foodservice industry.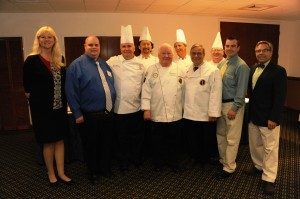 (left to right) KU Melbourne Campus President, Colleen Browne; KU Sarasota Dean of Culinary Arts, Michael Moench; KU Melbourne Dean of Culinary Arts, James McGuinness CCE; KU Melbourne Chef Instructor William Jung; Chef Klaus Friedenreich CMC; Hermann G. Rusch; KU Melbourne Chef Instructor, John Curtis; Chef Michael Baskette CEC CCE AAC; KU Lead Chef Presenter Chef Frank Lauterman; KU Sarasota Department Chair Baking and Pastry, Blake Ellis PCEC; KU Associate Vice Chancellor for Culinary Arts, Joseph Hardiman, HAAC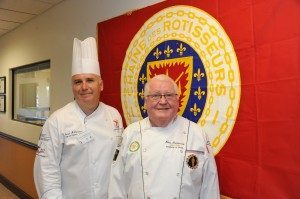 Dean of Culinary Arts, James McGuinness CCE and Chef Klaus Friedenreich CMC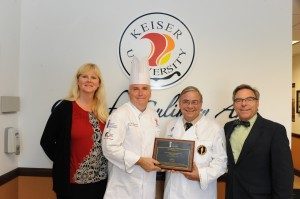 Colleen Browne KU Melbourne Campus President, Chef James McGuinness CCE, Dean of Culinary Arts, Chef Michael Baskette CEC CCE AAC, Assistant Continental Director for the Americas with the World Association of Chefs Societies (WACS) and Joseph Hardiman HAAC KU Associate Vice Chancellor for Culinary Arts