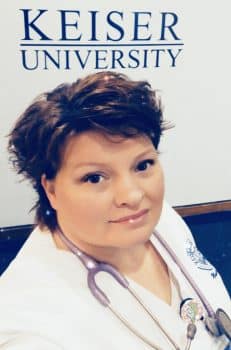 Margaret Eoute, a Keiser University Clearwater Campus Nursing program student, was recently presented the Mary Ann Tuft Endowed Scholarship sponsored by the Foundation of the National Nurses Association.
"The scholarship has made it possible for me to increase focus on my academic success and my role as president of the Keiser University Clearwater Campus' Student Nursing Chapter.  I'm excited for this additional opportunity to make a difference in the community by inspiring girls to enter the field of nursing," said Eoute who was awarded $1,500.
Currently working toward her Associate of Science degree in the field, Eoute is planning to become an Emergency Nurse Practitioner with a focus on trauma care. "Not only has the scholarship provided the financial assistance I need to meet my goals, but it has reinforced that hard work pays off. I am even more motivated now to pursue my dream after this amazing gift. The best reward I can imagine is serving as a nurse to offer comfort and reassurance in a time of need," she said.