FORT LAUDERDALE –  The Diagnostic Medical Sonography program recognized 11 graduating students in a pinning ceremony. After 16 months of hard work and perseverance the students completed the DMS program. Friends and family were in attendance to cheer on the graduates and congratulate them on a job well done. Dr. Vonk and Dean Porta-Avalos shared some inspiring words as the graduates are about to embark on the next part of their journey. The DMS faculty wishes the graduates great success in all future endeavors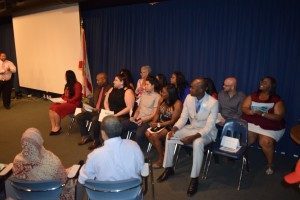 Radiologic Technology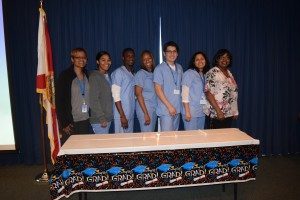 Medical Lab Technicians
MIAMI – Students in the Radiologic Technology Program at the Miami campus held their pinning ceremony and before the ceremony  had some photo booth fun with holiday props left out from Student Appreciation day.
JACKSONVILLE – Jacksonville's Occupational Therapy Assistant Program held their pinning ceremony for Cohort 16. Eighteen students were pinned, the student speaker gave a moving speech, and three Fieldwork Educators were recognized.
The Jacksonville's Occupational Therapy Assistant program honors OTA Fieldwork Educators for 2015 at Cohort 16 Pinning Ceremony!  Mr. Navarro was selected as the FLOTEC Fieldwork Educator of the Year for all of the Keiser OTA Programs! Mr. Navarro is currently enrolled in a DPT Program and is the DOR at Keystone Behavioral Pediatrics in Jacksonville.
Jacksonville's OTA program  acknowledged one of their Field Work Educators for his outstanding support and unparalleled clinical instruction.  RJ Navarro OT/L, CNDT was awarded the FLOTEC Clinical Educator of the Year award.  He works at Keystone Pediatrics and continues to provide excellent clinical instruction
DAYTONA – The Daytona Beach Radiologic Technology program held a pinning ceremony for core class number 37.  They also held the Diagnostic Medical Sonography pinning ceremony.
SARASOTA – Sarasota held their Radiologic Technology and Nursing program pinning ceremonies recently. The campus is so proud of all of our graduates for their commitment to excellence.
TALLAHASSEE – Tallahassee held their Occupational Therapy Assistant pinning ceremony. The new graduates arrived with their friends and family. After the ceremony guests continued to celebrate with cake and refreshments.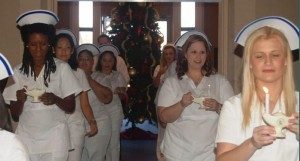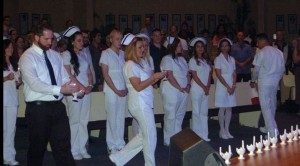 ORLANDO – Keiser Orlando's 16th cohort at the Orlando campus shared their ceremonial entry into nursing with their family and friends.  Wearing traditional white nursing uniforms, they were pinned by someone significant in their lives.  The speakers, Mrs. Littleton and Chelini, reminded them that nursing is a profession of service, continued learning, and integrity.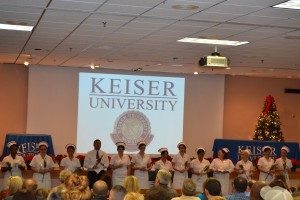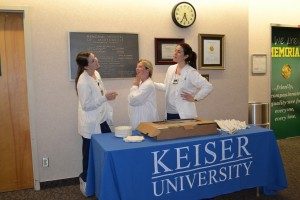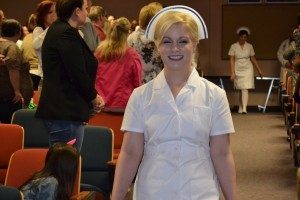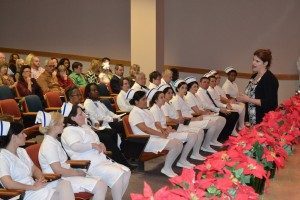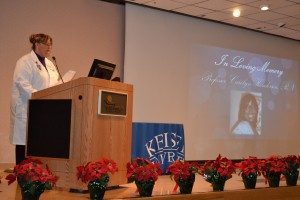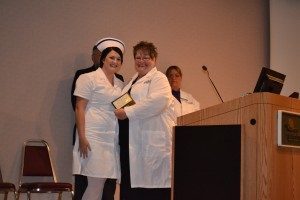 JACKSONVILLE – The Nursing cohort finished out the year strong with a beautiful Pinning Ceremony! They had field guest speakers, family, friends and community partners attend to congratulate the students and welcome them into their career! The program honored Carolyn Henderson, a nursing faculty member that passed away in 2015.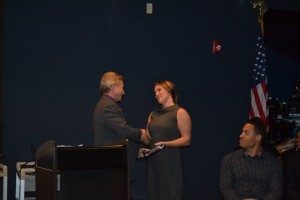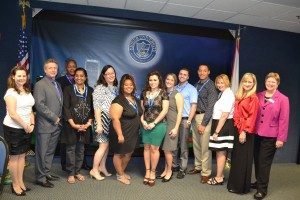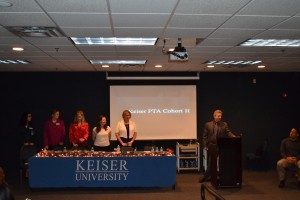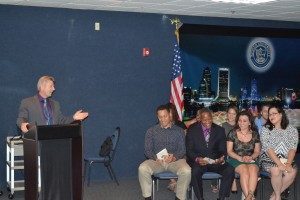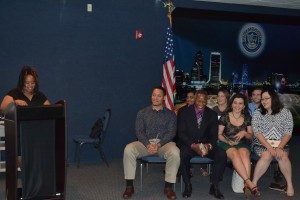 JACKSONVILLE – The Jacksonville campus finished out the year with Physical Therapist Assistant Cohort #10's pinning. Eight Students were honored with a moving ceremony, many speeches from the faculty and students made this pinning a memorable one. The writing coordinator joined the team to congratulate the students on a successful completion and an amazing start to their career.