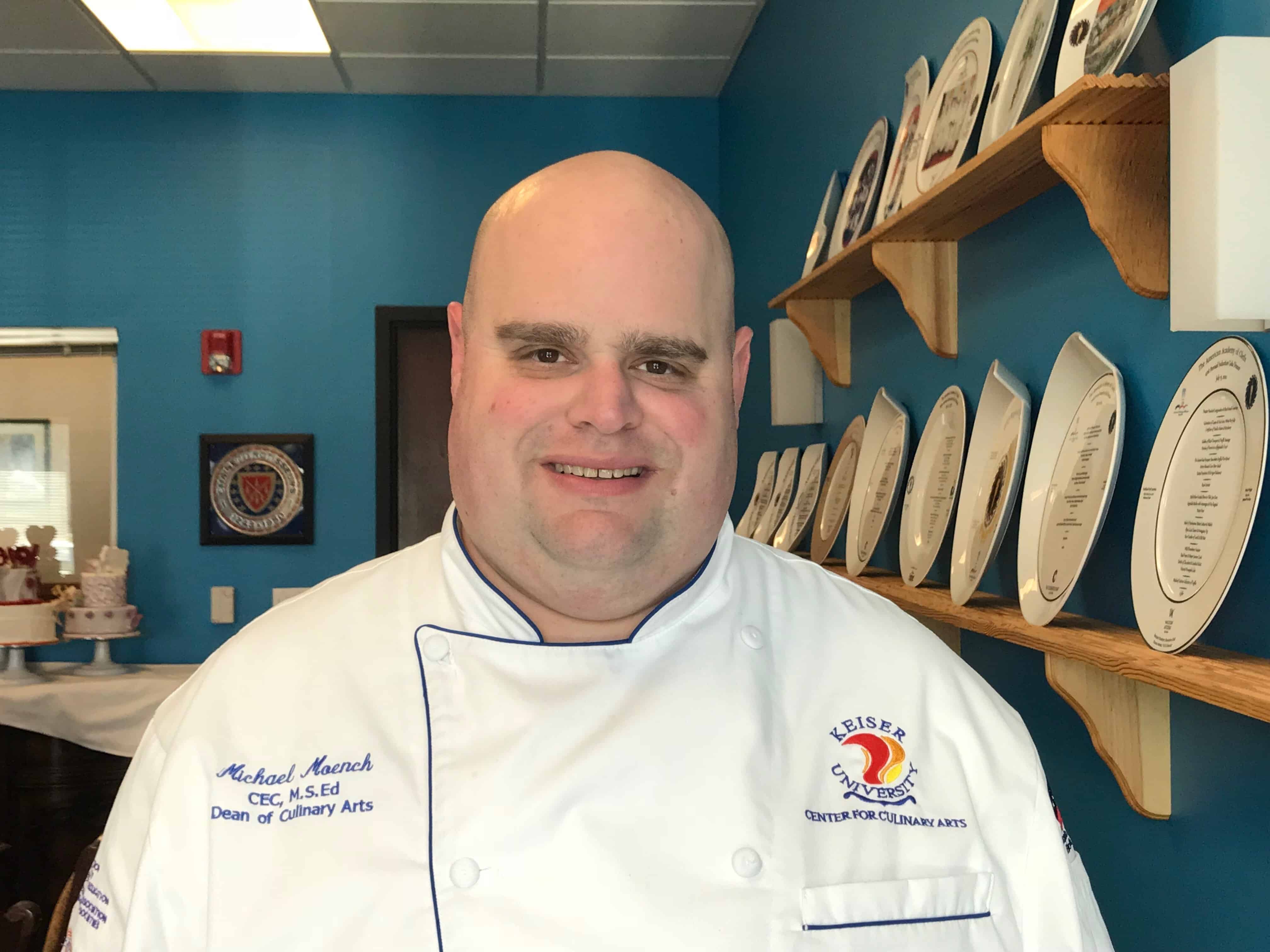 Keiser University Dean to Chair Culinary Accreditation Commission
The American Culinary Federation Education Foundation Accreditation Commission has named Keiser University's Michael Moench, CEC®, M.S.Ed, as the new chair of its Accreditation Commission. Chef Moench is the Dean of Keiser's Center for Culinary Arts. He will take over the position in January, replacing current chair Michael Carmel, CEC®, CCE®.
"I am honored to be asked to fill this position. Having been already an accreditation seeker and commission member has made me proud of the mission the ACFEFAC works to ensure and promote," Moench said. "I look forward to working more closely with the commission members, staff, and amazing accredited schools as we build on that mission."
"We are pleased that Dean Moench has been chosen to serve in this important position," said Dr. Arthur Keiser, Chancellor of Keiser University. "Accreditation is essential to ensure that a program or an institution meets the high standards necessary for student success. Under his leadership, our programs have been rated exemplary, and I'm sure this accreditation commission will benefit greatly from his leadership, experience and expertise as their new chair."
The American Culinary Federation, Inc is the largest professional chefs' organization in North America. It is made up of more than 15,000 members belonging to more than 150 chapters in four regions across the U.S. ACF offers educational resources, training, apprenticeships, competitions, and programmatic accreditation designed to enhance professional growth for all current and future chefs and pastry chefs.
"Chef Moench has been an ACF supporter for many years, brings familiarity, enthusiasm and ingenuity among other assets, to the commission," Carmel said.
As Dean of the Center for Culinary Arts, Moench of the oversees programs that serve about 200 students at Keiser University's Sarasota, Melbourne and Tallahassee campuses.
About Keiser University:
Keiser University is a private, not-for-profit university, serving nearly 20,000 students offering more than 100 degrees at 21 Florida campuses, as well as online and at two international sites, and employing 3,800 faculty and staff. It was co-founded in 1977 by Dr. Arthur Keiser, Chancellor and his mother, Evelyn Keiser.
Keiser University is accredited by the Southern Association of Colleges and Schools Commission on Colleges as a level VI institution to award certificates and degrees at the associate, baccalaureate, masters, specialist, and doctoral levels.
For additional information regarding Keiser University, visit www.keiseruniversity.edu.